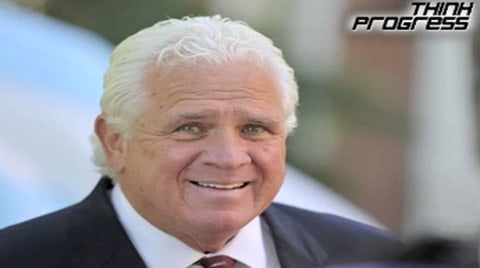 Democratic Maryland Senate President Mike Miller spoke out against efforts to pass marriage equality in that state using rhetoric he compared to "one of the Republican candidates for President," saying that he considers same-sex marriage to be an attack on the family, Think Progress LGBT reports.
The conversation took place yesterday morning on The Marc Steiner Show, and also featured Speaker of the House Michael Busch (D), who called marriage equality "a civil rights issue".
Said Miller: "I'm a historian and I look at civilizations, I study civilizations, I read history every night. And I see it's an attack on the family, I think it's an attack on traditional families. That's the way I see it."
Listen, AFTER THE JUMP…
The Log Cabin Republicans lashed out at Miller and at LGBT advocacy organizations in a press release today:
"Democrat Maryland Senate President Mike Miller is trying to divert attention away from his anti-gay pandering by hiding behind certain conservative candidates, but the truth is he is badly out of step with Marylanders, including Republican State Senator Allan Kittleman, who voted in favor of marriage equality last year and continues to be a champion on this issue," said R. Clarke Cooper, Executive Director of Log Cabin Republicans. "Between this and his attack on a transgender rights bill last session as also being 'anti-family,' it appears that Senator Miller has taken it upon himself to be the arbiter of what Maryland families deserve protecting. It is particularly frustrating to watch certain advocacy organizations, such as National Stonewall Democrats, let him get away with it again because of his partisan affiliation. Miller's disrespect for LGBT Maryland families is backwards, and everyone should hold him accountable for it."