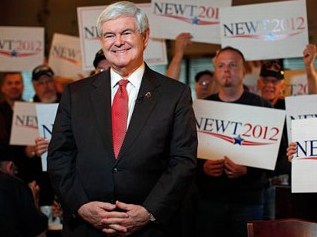 Newt Gingrich crushed Mitt Romney in SC tonight, and then, in his acceptance speech, explained how.
It's not that I'm a good debater. It's that I articulate the deepest-felt values of the American people.

Watch an excerpt from Newt's victory speech AFTER THE JUMP. (I'll post the whole thing when somebody sticks it on the web tomorrow.)

Polyamory, thy name is not Newt:
I'm all for having multiple relationships if multiple relationships work for you and all involved. Relationships – all of them – have rules. Some go unspoken: I trust that my boss won't grab my ass when he passes me in the hall. We've never had to have a conversation about that, and probably never will. Some are spelled out: Chris (my husband) and I won't make babies with anyone other than each other. When you break the rules, you break the trust established in your relationship. When you break the rules for six years behind the back of your partner, you grossly fail at even the basics of trust. If my boss could somehow grab my ass for six years while passing me in the hall without my knowledge and then demand that I allow him when I find out about it because "your co-worker doesn't care, and if you don't let me, I'll fire you" that would not come close to the abuse by Newt to his ex-wife.

Dan Savage writes maybe the wisest words on the subject:
Newt Gingrich wants us to know that he did not ask his second ex-wife for an open marriage. An honest open relationship was never on the table. Newt and Callista's six-year-long adulterous relationship was grounded in deceit and betrayal from the start, and Newt and Callista never wavered from the path of deceit and betrayal. Newt Gingrich was making an implicit promise to socially conservative voters: He did not ask his most recent ex-wife for an open marriage, and he will not ask any of his future ex-wives for an open marriage.

Here are people with an allegedly excellent open marriage.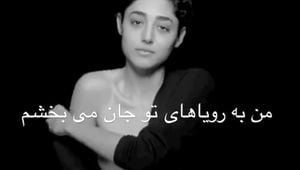 Bishops and priests tell Catholics Santorum and Gingrich: Stop being so damned racist.

Bradley Manning will be court-martialed. How's that work?
A convening authority, which is a general officer, will decide whether to refer the case to a court-martial. There's no designated time frame for this, but I think it will be in the next couple of weeks. A court-martial is a military criminal court that will have serious punishment powers. There will be a military judge presiding over it, who is a uniformed lawyer. There's a prosecutor. There's defense counsel. Unless Manning waives the jury, there will be a jury of at least five people.

… The jury is selected by the convening authority. It's not random selection. The general will select the members; it's supposed to be a blue ribbon group. They are supposed to be the best qualified people with respect to education, experience, judicial temperament and so on. Because Manning is an enlisted man, he has a right to enlisted representation on the court. That means that at least one-third of the jury would have to be enlisted men or women.

Alexander mentioned his atheism on his Facebook page. He was then assaulted by a mob and arrested.

She bared her breasts in photos, and in a rather lovely French advertisement. Now, actress Golshifteh Farahani can never go home again.

Homophobia has a new pitchman in Washington state.

Community newspaper editor wrote that Mossad might consider assassinating President Obama. Now he's sorry.