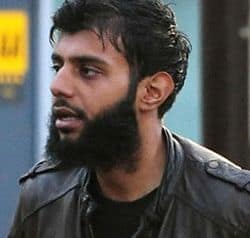 Derby, UK, is not a great place to distribute anti-gay literature.
So learned four young Muslim men this week. According to Newstrack India, Ihjaz Ali, Kabir Ahmed, and Razwan Javed have been sentenced to seven years in prison for distributing leaflets demanding the death penalty for LGBTs. They, along with two others who were cleared of charges, were the first men to be tried under 2010 legislation prohibiting the stirring up of hatred against LGBT people.
Earlier this week, readers of the Guardian learned how one of the men, Mr. Ahmed, accidentally handed one of his leaflets to a police officer:
Giving evidence to the court on Monday, Ahmed said he had handed one of the Death Penalty? leaflets to PC Stephen Gregory on 2 July as he was passing the Jamia Mosque in Rosehill Street following Friday prayers.

Ahmed told the court he said to the officer: "Something along the lines of 'Is everything OK?' and he said something like, 'Yes, fine,' and I said 'I'm not trying to offend anyone.'"

Ahmed's barrister, Zacharias Miah, asked him whether, if Gregory had told him he was doing something wrong, he would have handed over the bag of leaflets. Ahmed replied: "Of course, without a shadow of a doubt."
But Ahmed insisted he was never told any such thing. He thought only that he was doing his civic and cosmic duty:
He said: "My intention was to do my duty as a Muslim, to inform people of God's word and to give the message on what God says about homosexuality."

… "My duty is not just to better myself but to try and better the society I live in," he said. "We believe we can't just stand by and watch somebody commit a sin, we must try and advise them and urge them to stay away from sin."
The covers of the leaflets depicted a mannequin hanging from a noose under the title "Death Penalty?" Inside, the leaflets explained that "the only dispute amongst the classical authorities was the method employed in carrying out" the death penalty against homosexuals. It went on to suggest burning, stoning, and the flinging of gays from cliffs or high buildings.
UPDATE: Thanks to reader Jay for pointing out that the Newstrack India story above is incorrect. In fact, according to GLBTQ.com and elsewhere, the pamphleteers will not be sentenced until February 10th. They could receive a maximum of seven years.