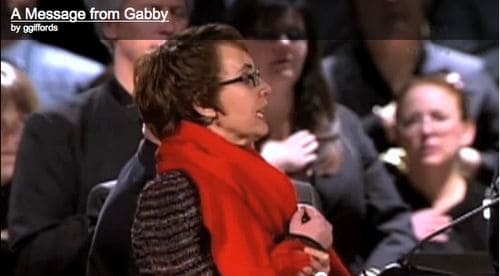 Gabbie Giffords, sounding sure of voice and better than she has all year, nevertheless announces that she'll retire this week. Watch her announcement AFTER THE JUMP.

A Greek anti-discrimination bill is shelved.:
… in order to avoid a government crisis, plans for a parliamentary debate of a new bill that would  punish "serious manifestations of racism and xenophobia" are cancelled indefinitely. The bill would have punished those "who incite, provoke or promote violence or hatred against people or groups based on their race, color, religion, origins, nationality or sexual orientation" with a prison term of up to three years.

… The bill was a project of the previous socialist government, that was replaced by a three-party coaltion last November in order to come to terms with the escalating fiscal crisis that plagues the country.

…The bill was supposed to be debated in the full house last week, after being approved in a parliamentary committee with the support of the socialists and a smaller leftist party. Last Thursday it was revealed that the bill will be shelved indefinitely … The contents of the bill was for many months the target of angry reactions from nationalist right-wing opinion in the country.

Ever visit Fox Nation? If not, here's what you're missing.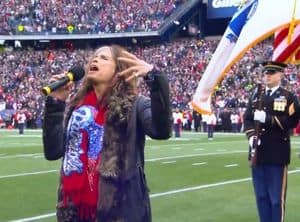 Aerosmith was my first concert when I was 14 years old, and I still incubate a special kind of love for Steven Tyler. Which is why I wish people would stop hiring him to sing the National Anthem.

It's a city of strangers: The subway as musical instrument.

Although adorable rich kids love Mitt Romney …

… The New Yorker thinks Newt might win this thing. John Cassidy invokes the Muskie Curse:
… the main reason I think Newt could win is what is happening to Mitt's campaign. Outside of his own backyard, the former Massachusetts governor has yet to win more than twenty-seven per cent of the vote. At this stage, he is beginning to look ominously like another establishment favorite from the North East who had everything going for him except the voters in his own party: Ed Muskie.

Of course, the real winner of the Republian primaries so far, other than Barack Obama, is the National Organization for Marriage.

A "coalition of health and education group" released new standards for American sexual education earlier this month …

… and wow! CitizenLink's Candi Cushman and Focus On The Family's Janet Mefferd are really unhappy about it:
Cushman: The important things for parents to understand is that these standards are supposed to start in kindergarten so at the elementary level students are going to start to be taught to 'identify different types of family structures.'

Mefferd: Ugh.

Cushman: And then demonstrate respect for these different types of families. That's basically codes for, 'We're going to teach your kids about same-sex marriage and homosexual relationships and this is an option worthy of being embraced just like heterosexual marriages and relationships.' Not only are they going to be willing to embrace it but they're going to respect it and they're going to get that down by the second grade. So they will need to start that probably around kindergarten so they'll have it down in their heads by second grade. That's just one example of them dealing with the homosexuality topic.

Mefferd: Well and in most states we don't have same-sex marriage, so why the need for that?

Cushman: Right, it's totally undemocratic.

Joe Paterno, coach, philanthropist, and alleged enabler of child rape, is dead.