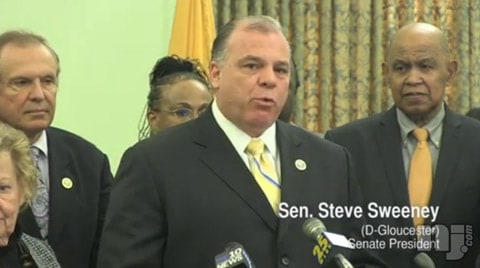 The New Jersey "Freedom to Marry" bill has been placed on a high priority fast track, a group of lawmakers said today, introducing the bill in Trenton.
Senator Steve Sweeney, who introduced the bill for a Senate, voted against the marriage equality bill when it was up for a vote last year and called it the biggest mistake of his career, reiterating remarks he made earlier this year.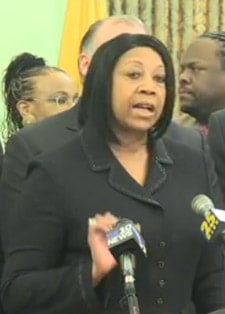 Assemblywoman Sheila Oliver, who introduced the bill to the Assembly, spoke about Loving v. Virginia and interracial marriage, emphasizing that marriage equality is a matter of civil rights.
Watch Senator Sweeney, Assemblywoman Oliver, and Assemblyman Reed Gusciora speak in support of the bill, AFTER THE JUMP…
At a press conference attended by nearly a dozen top Democrats in the Senate and Assembly, Sweeney said the marriage equality bill will go to key legislative committees "immediately.'' Further, he said he wants a floor vote in the Senate before the budget break, which is in March.
He said he expects there will be enough votes in both houses to pass the measure (A1 and S1) but noted the battle will come when the bill reaches Christie's desk for enactment.
"It's gonna be a fight. We expect it to be a fight,'' Sweeney said. "The governor's a decent person and I think we can work on educating him to the fact of what it means.''
Said Freedom to Marry's National Campaign Director Marc Solomon: "Freedom to Marry is proud to partner with Garden State Equality and New Jersey's tremendous legislative leaders, Senate President Sweeney and House Speaker Oliver, as we work together to make New Jersey the next state to end the exclusion of gay couples from marriage.  What New Jersey's legislative leaders are telling us clearly today is that the Garden State values its gay and lesbian citizens fully, and does not accept treating same-sex couples and their families as second class citizens, as it presently does with civil unions.  Marriage matters for same-sex couples and their families, both because it says we're a family through thick and thin in a way that nothing else does, and because it provides a critical safety-net of protections that civil unions do not."
Watch Senator Sweeney, Assemblywoman Oliver, and Assemblyman Reed Gusciora speak in support of the bill, AFTER THE JUMP…