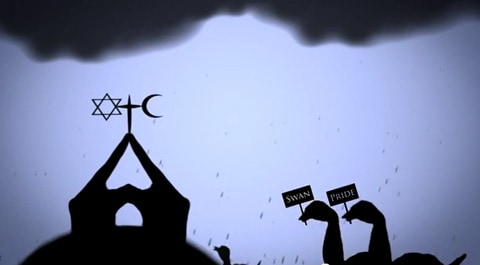 Gil Kline, Gunner Sledgeski, and Daniel McGreal, the members of the Rockville, Maryland-based band Bye June, have collaborated with world-renowned shadowgrapher Sati Achath for the music video for their new track "Shades of Purple", which is about marriage equality and the freedom to love whomever you choose.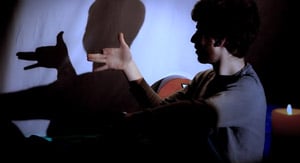 Kline tells us that "Shades of Purple" is the first pop music video to utilize shadow puppetry.:
Said Kline: "We asked our fans to choose a track for a music video, and they voted online for this song. I am very pleased, since this song has deep meaning and an important social message. Also, we were fortunate to have Mr. Achath on our team, he truly brought the characters to life."
Said Achath: "Shadowgraphy is a very old art-form, and I am very excited to bring this art-form to a whole new generation. I fell in love with this project for the music, message and medium."
Check it out, AFTER THE JUMP…
Here's the band's Facebook page.