The National Organization for Marriage is going back to Maine to fight a plan by LGBT advocates to legalize same-sex marriage through a ballot measure. Last week the group said it had collected enough signatures to put the question before Maine voters and expressed confidence that public opinion had moved enough that they could win.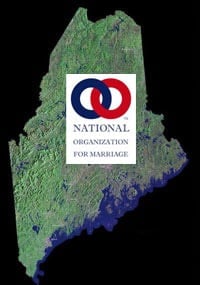 NOM is back to fight, despite the fact that it's fighting two disclosure lawsuits in the state from the last marriage battle, the Press Herald reports:
"Maine voters rejected gay marriage barely more than two years ago," National Organization for Marriage President Brian Brown said in a prepared statement. "What part of 'no' don't gay marriage advocates understand?"
The group spent nearly $2 million in 2009 to provide most of the funding for the campaign that overturned the state's same-sex marriage law before it could take effect. It did not say how much it is willing to spend this time around.
The organization still has two court cases pending that relate to the last campaign. It's suing the state in federal court to challenge the constitutionality of a state law that requires campaign disclosure, and it sued in state court to try to block an investigation into its finances by the ethics commission's staff.
Watch Ben Dudley of Engage Maine speak at the press conference last week announcing the ballot initiative, AFTER THE JUMP…