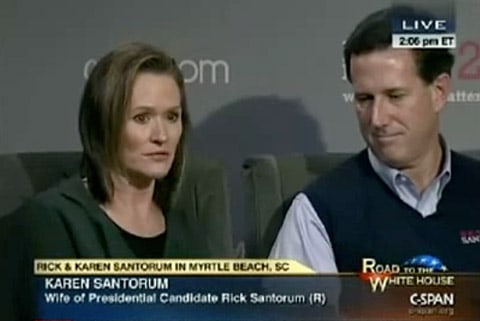 At a campaign stop in Myrtle Beach, South Carolina today, a woman told Rick and Karen Santorum that she's trying to reconcile her support for him with the fact that her son is gay and he and his friends react poorly at the mention of Santorum's name because they think he hates gay people.
Replied Karen Santorum: "I think it's very sad what the gay activists have done out there. They've vilified him and it's so wrong. Rick does not hate anyone. He loves them. What he has simply said is marriage shouldn't happen. But as far as hating, it's very unfortunate that that has happened. And a lot of it is backyard bullying."
Said Rick: "This is a public policy difference. And the problem is that some see that as a personal assault."
He went on to reply that children deserve a mother and father and unless that is promoted there will be less of it," adding: .. There's all sorts of other relationships that people have, and they are valuable relationships — whether they are amorous relationships or friendship relationships or familial relationships — they're all important, they all have value they  all should be affirmed. But that does not mean that we should change the laws to order — to create an atmosphere where children and families are not being promoted."
Watch, AFTER THE JUMP…