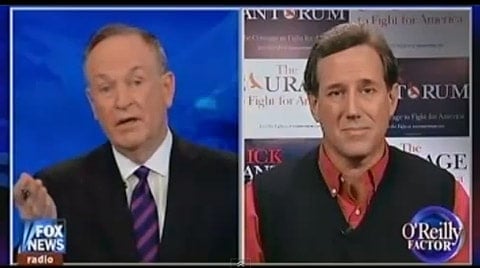 Rick Santorum entered Bill O'Reilly's 'no spin zone' last night and was questioned about how he's going to respond to people who believe his views on social issues like abortion, gays in the military, and same-sex marriage, are extreme.
Santorum doesn't believe his views are extreme: "I don't think being for marriage between man and a woman is extreme, Bill."
Says O'Reilly: "To rescind licenses already given? That's a big deal."
Says Santorum: "The federal government would have to pass a constitutional amendment and if the Constitution says that marriage is between a man and woman, then things that are inconsistent with that would not — would be inconsistent with the Constitution…"
Santorum then says he doesn't talk about gay issues a lot, adding:
"…this is the fundamental issue in this campaign is whether government is going to be big and obtrusive and telling people how to manage their — their lives or — and are they going to support the basic values of faith and family that allow government to be limited and allow our economy to be strong."
Watch, AFTER THE JUMP…