Three Muslim men have been convicted in the UK over inciting hatred on the basis of sexuality for distributing leaflets calling for gay people to be killed. One of the leaflets used G-A-Y initials spelling out the phrase 'God Abhors You'. Another said 'turn or burn' and depicted a 'homosexual' drowning in a lake of fire. It's a first-of-its-kind conviction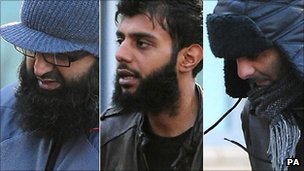 The Guardian reports:
In a landmark case, a jury at Derby crown court ruled that Ihjaz Ali, Kabir Ahmed and Razwan Javed had breached hate crime legislation by handing out the leaflets outside the Jama mosque, in Rosehill Street, Derby, in July 2010, as well as putting them through nearby letterboxes. Sentencing was adjourned until 10 February. Two other men, Mehboob Hussain and Umar Javed, were found not guilty of the same charge.
One leaflet, entitled "Death Penalty?", showed an image of a mannequin hanging by the neck from a noose, accompanied by references to homosexual sex.
The men had pleaded guilty to distributing the flyers but not to the charges:
After the verdicts, Sue Hemming, the head of the Crown Prosecution Service's special crime and counter-terrorism division, said: "Everyone has a right to be protected by the law and we regard homophobic crimes, along with all hate crimes, as particularly serious because they undermine people's right to feel safe.
"This case was not about curtailing people's religious views or preventing them from educating others about those views – it was that any such views should be expressed in a lawful manner and not incite others to hatred."
The Criminal Justice and Immigration Act 2008, which came into force in 2010, made it an offence to stir up hatred on the grounds of sexual orientation.
One gay man, who gave evidence but cannot be identified for legal reasons, said he received the Turn Or Burn and Death Penalty? leaflets through the door of his home on two occasions. He said the first leaflet, Turn Or Burn, made him feel "quite horrified" and it was after he received Death Penalty? that he called the police.
"They made me feel terrorised in my own home," he said. "Sometimes I wondered whether I would be getting a burning rag through the letterbox or if I would be attacked in the street.