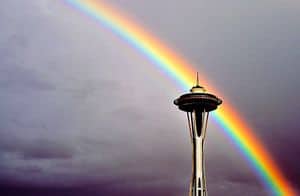 Washington state is just two senate votes short of legalizing same-sex marriage. But in Washington, even one vote can be hard to come by.
The situation is this: Gov. Christine Gregoire, now in her final year of office, has voiced support for marriage equality. The Democrat-dominated state house overwhelmingly supports equality, too. But in the senate, where the Democrat majority is slimmer, the drive for equality hinges on a shrinking number of undecided legslators. Reuters quotes Sen. Ed Murray, the man behind the legislative push for marriage equality:
"Our gay and lesbian civil rights bill, which took 29 years to pass (in 2006), was always one vote short and I believe this situation is pretty much the same," said Murray, a gay man who hopes to wed his long-term partner in the state.

"We are grandchildren of people who immigrated and homesteaded this state," he said. "We hope that after 20 years of basically being engaged together that we would be able to legally marry in our native state."
The Seattle Times briefly interviewed one of the undecided senators, Brian Hatfield, a Democrat from Raymond, who worried that either a yea or nay vote would alienate too many of his constituents:
"For a number of legislators, (the gay-marriage vote) is not that big of a deal based on their districts, based on their social circle and everything. For me, it is a loser," Hatfield said. "It's a loser no matter what."

The senator says he has good friends on both sides of the issue, and he worries about what a no or yes vote could do to those relationships.

Hatfield also said he struggles with the fact the majority of his district voted against Referendum 71, the so-called "everything but marriage" law. The measure was approved by voters statewide.

"It's not a clear, black-and-white issue as a lot of people on both sides believe it is," he said.

Hatfield said he would prefer that gay marriage be put on the ballot. If it comes to an up-or-down vote on the law in the Senate, he said he's not sure what he'll do.

Murray has insisted he will not support adding a referendum clause to the bill, saying minority rights should not be decided at the ballot.
Just in case the needed two votes are found, anti-marriage activists are mobilizing to ban same-sex marriage with a November ballot initiative. According to the Seattle Times, attorney Stephen Pidgeon, of Everett, is seeking to collect the necessary 241,153 signatures demanding such an initiative by the July 6th deadline.