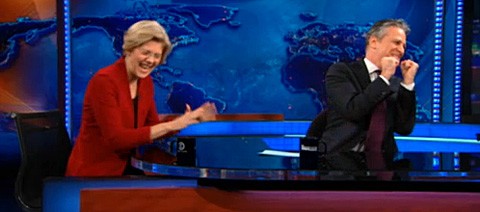 Consumer advocate Elizabeth Warren, who is running against Republican Scott Brown for the U.S. Senate in Massachusetts, sits down with Stewart to talk about government's role in the private sector, and reinvesting in the middle class.
Says Warren: "The people who are sucking up the real resources in this country are the people who can hire the lobbyists, and unfortunately America's middle class doesn't have lobbyists fighting for them."
Warren also knows who's going to get spanked in the Super Bowl.
Watch, AFTER THE JUMP…
Part 2: