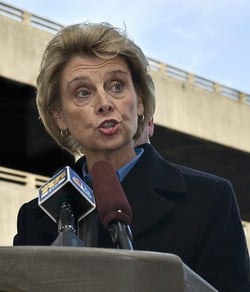 Here's some good evening news: Seattle Times journalist Andrew Garber reports that Washington State Governor Chris Gregoire will reportedly hold a press conference to announce support for marriage equality.
Gregoire has leaned toward equality in the past. She signed a law last year recognizing out-of-state same-sex marriages and in 2009 signed the "everything but marriage" law extending domestic partnerships to the same level of marriage. Full support would be the next logical step, especially with the widespread equality movement in the state, like Washington United for Marriage.
A vast coalition, the group came together last November to start putting pressure on the state's lawmakers, including Governor Gregoire. From their press release:
The long list of supporting members includes faith-based organizations such as the Faith Action Network and Jewish Federation of Greater Seattle, unions including SEIU Washington State Council and UFCW 21, and numerous advocacy organizations and business associations across the state.

The grassroots effort is led by a group of the state's leading human rights organizations, including the American Civil Liberties Union of Washington, Equal Rights Washington, Human Rights Campaign, Legal Voice, and Planned Parenthood Votes Northwest.
…
The goal is to have legislation legalizing civil marriage for lesbian and gay couples passed by the Legislature and signed into law by Gov. Chris Gregoire next year.
Various writers described 2011 as the "year to be gay." And, yes, there were indeed some tremendous moments. DADT's repeal, gay marriage in New York and Hillary Clinton's end-of-the-year UN speech all come to mind. But big news in Washington would be like the Iowa caucus of equality: a great way to give other movements across the country some momentum for their own fights. Who knows, maybe 2012 will turn out to be the year to beat.
Image via WSDOT's Flickr.