Book of Mormon's Andrew Rannells is starring in the new sitcom pilot The New Normal by Glee creator Ryan Murphy, and Michael Ausiello reports that Murphy has now found Rannels a husband: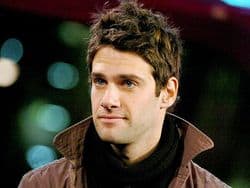 The Glee boss has tapped Hangover actor Justin Bartha to play Rannells' better half in The New Normal, his single-camera sitcom pilot about a blended family made up of a gay couple and the surrogate helping them have a baby of their own.
Georgia King has been cast as their surrogate, Goldie, and, as previously reported, Ellen Barkin co-stars as her glamorous grandma.
In other news, Brandon Routh and Michael Urie will play a gay couple in the new sitcom pilot from the creator of Will & Grace, Deadline reports:
Chuck alum and former Superman Brandon Routh, Elizabeth Regen and Lucy Davis have joined Michael Urie and Sophia Bush in the cast of CBS' half-hour pilot Partners. The multicamera comedy, from Will & Grace creators Max Mutchnick and David Kohan, centers on lifelong friends and business partners —architects  Charlie, who is straight, and Louis (Urie), who is gay. Routh, repped by UTA and Main Title, will play Louis' steady partner, a former alcoholic, club-hopping model, now a sober, vegan nurse.