New York state Senator Mark Grisanti, one of four GOP senators to vote for marriage equality last June, has lost the support of the Erie County Republican Party over his vote, the NYT reports: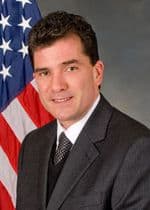 Ralph C. Lorigo, the chairman of the Erie County conservatives, said Mr. Grisanti had lost his party's trust after twice telling party executives, in 2008 and 2010, that he was not in favor of gay marriage, and then voting in 2011 to legalize it.
"A lot of people felt betrayed by that commitment that he broke," Mr. Lorigo said in an interview on Friday.
The party instead endorsed Charles M. Swanick, a former member of the Erie County Legislature who once changed his affiliation to Republican before returning to the Democrats. Mr. Swanick has told the county conservatives that he was against gay marriage and abortion, and in favor of fiscally conservative policies, Mr. Lorigo said.
 Senate majority leader Dean Skelos says he is confident of Grisanti's reelection.