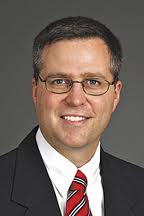 Same-sex marriage opponents filed paperwork for a voter referendum petition with the state Board of Elections today to undo marriage equality legislation passed this week, the AP reports:
Delegate Neil Parrott said he filed draft language for a referendum petition with the state board of elections Friday, a day after the Senate joined the House in approving a bill to allow same-sex marriages. Gov. Martin O'Malley endorses the measure and plans to sign it next week.
The board has a week to consider the submission and if it is approved, Parrott and others will begin collecting the 55,736 signatures needed to bring the measure to the November ballot.
Parrott says he plans to turn in double the number of required signatures to ensure certification.