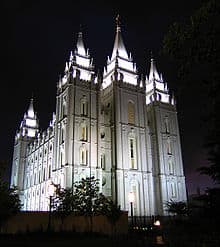 So claimed Mr. Karger, the gay Republican candidate for the presidency, in an email to supporters on Friday. From the letter:
Terra Eclipse based in Aptos, California … developed and designed my web site 21 months ago and had hosted it ever since. I spent tens of thousands of dollars with this company which specializes in Republican campaign web sites. So you can imagine my shock, when just two days before Christmas, Terra Eclipse sent me a terse email saying that it was dropping me in two weeks – just five days before the all-important New Hampshire Primary. What? Why?
Karger's pretty sure he knows why. In his email, he explains his various scrapes with the LDS Church over the years — his prosecution of their secretive and illegal support of Prop 8; his launch of the website Top10CraziestMormonBeliefs.com – and whips out this letter, from Terra Eclipse:
While your campaign has every right to express views using tactics of your own choosing, our company also has the right to freely associate with our clients. In light of these actions, which not only appear to be completely irrelevant to a campaign for President of the United States, but also constitute an insult to and mockery of individuals of particular faiths, we are exercising our right to terminate your NetBoots account and disassociate with your campaign, as reserved in our Terms of Service (attached).

I invite you to contact our attorneys should you wish to pursue the matter further.
I wonder if Terra Eclipse would have been equally scandalized if another of their Republican clients used their servers to "insult" and "mock" LGBTs.
Anyway: In his email, Mr. Karger says he might just contact Terra Eclipse's attorneys, and he probably isn't bluffing — Karger's always got a lawyer on speed-dial. In the meantime, he says he wants "the world to know" about Terra Eclipse's censorship, and he intends to spread the word among California Republicans as they gather for their semi-annual conclave in San Francisco this weekend.