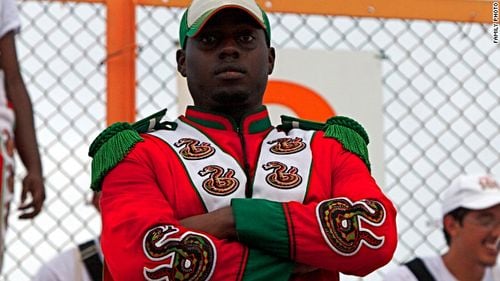 On Nov. 19th, gay drum major Robert Champion of Florida A&M University died from injuries sustained during what appears to have been a violent hazing ritual conducted as part of Champion's entrance into FAMU's famed marhcing band, the Marching 100. The ritual, it emerged, would have included something called "The Gauntlet of Fists." Champion collapsed on the band's tour bus; only a subsequent autopsy revealed he'd been beaten to death.
From the AP:
Witnesses have told Champion's parents the 26-year-old drum major may have been targeted for severe hazing because of his opposition to the marching band's culture of hazing, said [Chris] Chestnut, the lawyer for the suburban Atlanta family. Other witnesses have told them Champion being gay, and the fact that he was a candidate for chief drum major, also may have played roles, Chestnut said.
Three months later, Champion's parents are still waiting for arrests to be made. The AP offers possible reasons for the case's slow progress. The distance between the location of the crime (Orlando) and the location of FAMU (Tallahassee); the pressure of international scrutiny; the large number of witnesses and the time elapsed between the murder and its discovery as such:
Half a dozen detectives have interviewed or are in the process of interviewing 30 to 35 witnesses, said Ginette Rodriguez, a spokeswoman for the Orange County Sheriff's Office.

"With this amount of people … three months really isn't a lot of time with an active caseload that these detectives are carrying," Rodriguez said. "We're going to send this over to the state, and of course, they're going to want to make sure that they're presenting a good case. That is basically all it is."
Incredibly, the ongoing investigation has apparently had little effect on the Marching 100's culture of sadism. Four FAMU students were arrested last month for "paddling and punching" band pledges. The month before that, three were arrested for beating a female pledge with sufficient vigor to break her thigh bone.
From the AP:
"It's very disheartening, discouraging and disappointing to see arrests made for hazing with [comparably] minor injuries but none for a murder," Chestnut said.