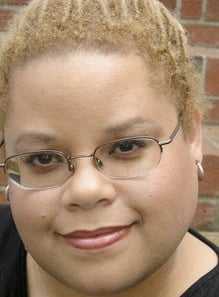 Two weeks ago, Pam Spaulding of Pam's House Blend blogged eloquently about the tendency of marriage equality opponents to enlist the support of black ministers to assure nervous Christians that, no, marriage equality isn't a civil rights issue. She referrred specifically to Dr. Patrick Wooden of the Upper Room Church in Raleigh, who was to join the execrable Peter LaBarbera (of Americans For Truth About Homosexuality) at a protest at the Southern Poverty Law Center. She referred to Dr. Wooden as a "a vigorous rent-a-reverend who never fails to get face time with the professional bigot brigade."
LaBarbera and Wooden read that, and hashed over it in an interview in which they discuss, in all seriousness, how much happier Pam will be once she discovers God, motherhood, and penises:
Dr. Wooden: Pam needs Jesus. And, and when Pam meets the Lord that yearning for a member of the same sex will change, and uh, you know what? She'd probably make a fantastic mother, and would enjoy having a husband who was born male — no Chaz Bono business — born male – and meet her man, and rock her world. In the name of the Lord!

Pete LaBarbera: She's uh, you know, you're right about the hatrd. You expect the hatred to come. This is a perversion movement, folks.
First, of course, Dr. Wooden made a great show of explaining how much he loved Pam and how much he'd like to take her to lunch. Because that's how one demonstrates love for strangers, isn't it? Tell them what to put in their vaginas, and then offer to demonstrate your groovy paternalism over sandwiches and Cokes? 
You can read a lengthy transcript from the interview at Pam's House Blend, as well as Pam's very funny commentary. You can also listen to four minutes of the interview AFTER THE JUMP …