Tyler Clementi twice caught his roommate Dharun Ravi spying on him during a gay date, according to prosecutors, and requested a room change from Rutgers, ABC News reports.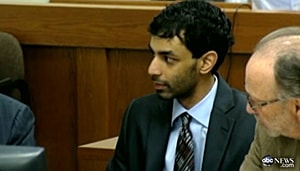 But jurors won't hear that evidence:
Defense attorneys Steven Altman and Philip Nettl argued against admitting the reason for Clementi's room change request – "Roommate with webcam spying on me" — into evidence, saying it was hearsay that was unreliable. The statement may or may not have authored by Clementi himself, and was not investigated by the university at the time of the request to be true, Altman argued.
The judge ruled that the part of the statement in which Clementi accuses Ravi of spying could not be admitted.
A more detailed explanation from the AP. Jurors heard today from William O'Brien, a university official, that Clementi requested the room change, but not the part that he did so because of Ravi's spying:
But before O'Brien testified, a judge said he would not be able to say that Clementi put on his request form for a room change that his roommate spied on him with a webcam. Prosecutors wanted the line included and argued that it would be allowed because it was part of a business record since it came from a university form.
But Judge Glenn Berman said the statement should be excluded, ruling that it was not a business record because it was Clementi and not a Rutgers official who filled out the document.
The line that said as much was blacked out when the jury was shown the form blown up on a screen in the courtroom.
On Friday, witnesses testified that Ravi was not homophobic. The trial continues this week.