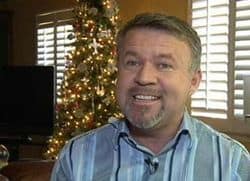 El Paso! First, the city council decided to extend health benefits to the domestic partners of city employees. Then the city's godcrazy gayloathers were so offended that they got the council's decision put to a public referendum, at which point 55% of the city's voters decided that, no, domestic partners should not get benefits. And so the city government decided the voters were idiots and domestic partners should get benefits anyway. Then the godcrazy gayloathers decided to recall the officials involved. (And how many gay couples were sucking up those sweet government bennies? Two. Two!)
This venal drama concluded Friday. From The Dallas Voice:
In a victory for supporters of LGBT equality, a Texas appeals court has rejected an effort to recall El Paso Mayor John Cook and two other council members over their support of domestic partner benefits for unmarried city employees.

Texas' 8th Court of Appeals ruled unanimously on Friday that recall organizers, led by anti-gay Pastor Tom Brown, broke the law in gathering petition signatures for the recall election, which had been scheduled for this spring.
That's Tom Brown, above right, who last year accused the bennies-giving council of "rewarding fornicators." Can't wait to hear what he has to say about the appeals court.