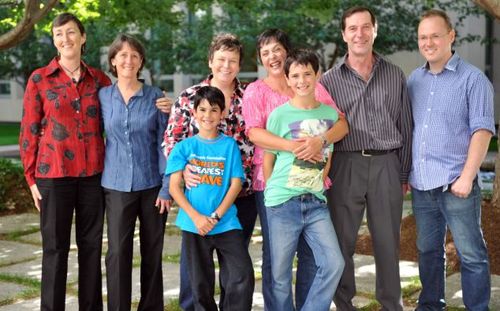 In June last year, the activist group GetUp! paid 31,000 Australian dollars ($33,270) for a dinner with Prime Minister Julia Gillard after winning a bidding war against a Christian lobby group at the Press Gallery of Australia annual charity ball.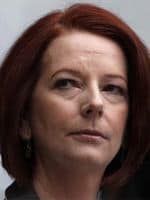 The group's intention was to send three gay couples to dinner to discuss the need for marriage equality in Australia, and that happened last night.
The AP reports:
Twelve-year-old Matthew Miller presented Gillard with flowers and two letters explaining why he and his brother Dylan, 9, would like their biological mother Sandy Miller to marry their other mother, Louise Bucke.
"Since they're not allowed to get married, they're basically being called not normal and we're not known as a proper family," Matthew told The Associated Press at Parliament House before the dinner, which the boys did not attend.
Along with Miller and Bucke, other guests were Brisbane academic Sharon Dane, 54, who married Elaine Crump, 53, in Canada in a ceremony that is not recognized in Australia.
Steve Russell, 51, and John Dini, 29, decided against marrying overseas because it would carry no weight in Australia. While they could have a civil union recognized under state law in their hometown of Melbourne, they don't regard that as equal to marriage.
Gillard is personally opposed to same-sex marriage. According to the Sydney Morning Herald, she told the couples "she believes laws allowing them to marry in Australia are inevitable."