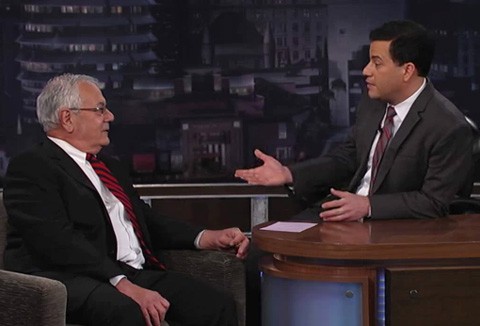 Barney Frank paid a visit to Jimmy Kimmel last night to talk about his retirement and his marriage.
Frank begins by talking about about how the media has become more negative, and says that the thing he'll miss the least about being in office is fundraising:
"Being nice to people I'm not crazy about. That's not my default position…For reasons I don't fully understand, not everyone loves me."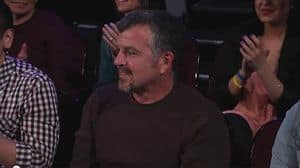 Barney also shows off a wedding ring, and introduces his fiancé Jim Ready, who is in the audience. Kimmel calls Frank a "dirty dog" when he reveals their 30-year age difference. Kimmel also asks about the wedding plans – who is planning it, if it's going to be bipartisan, and if any of the guests are opposed to same-sex marriage.
"There will be no bigots at the wedding," Frank tells Kimmel."
As for Frank's plans after retirement: "I'm not going to be a lobbyist. I'm not going to be a historian. I'll be speaking."
He also weighs in on the election and says that he doesn't think any of the current crop of Republicans will be able to beat Obama: "I would like to see us run against Rick Santorum. I think we can beat Rick Santorum even if the devil stays out of it."
Watch, AFTER THE JUMP…