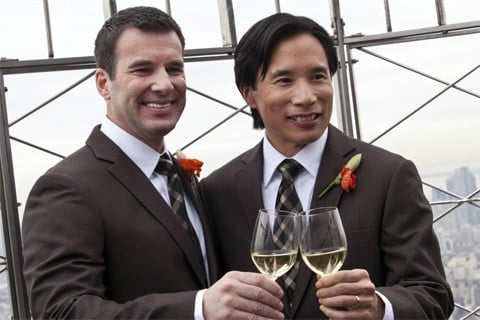 Every eyar on Valentine's Day the Empire State Building hosts a number of weddings. This year gay couples were included for the first time, Reuters reports:
"We just thought it would be a fantastic opportunity to get married on top of the Empire State building, especially since it is the first year that gay marriage is allowed," said Phil Fung, a 49-year-old product manager at a financial services firm who wed his partner Shawn Klein, 51, a hospital administrator.
The couple, who live in New York, met 18 years ago at The Roxy, a famous Manhattan nightclub, and have been together ever since.
"It was love at first sight," said Fung. "We have been talking about getting married now that gay marriage was passed in New York state and friends of ours told us about the contest."
More photos here.