Troy, Michigan mayor Janice Daniels, who faced outrage late last year over a Facebook update that read "I think I am going to throw away my I Love New York carrying bag now that queers can get married there", may soon face a recall, the Detroit Free Press reports: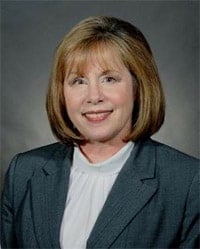 An entity called Recall Janice Daniels filed two petitions Monday with the Oakland County Clerk's Office. Daniels was called a "dangerous, polarizing ideologue" on its website, www.recalljanice.com. Matthew Binkowski of Troy sponsored the petitions.
"We believe that the citizens of Troy must take our city back," according to the website.
One petition challenges her vote against millions of dollars in federal funding to build a transit center near the Troy/Birmingham border. The other challenges her views on homosexuality, her behavior during her swearing-in, and a possible breach of City Council meeting rules.
Daniels faced more anti-gay allegations in January after she met with students at the Troy High School Gay-Straight Alliance (GSA) seeking to mend ties with the mayor by holding a forum, and told them that she wanted to invite psychologists who would testify that homosexuality is a mental disease.
According to the paper, "If approved, the petition's supporters have 180 days to submit 7,985 signatures, which need to be gathered within any 90-day period within the 180 days."