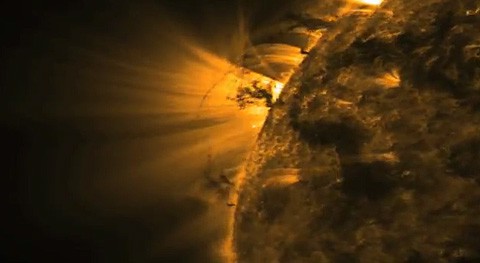 To mark the second anniversary of NASA's Solar Dynamics Observatory, the agency released a recent video that would not have been possible without it:
The sun tornado video shows swirling fountains of plasma creeping across the surface of the sun during a 30-hour period between Feb. 7 and 8. But unlike tornadoes on Earth, which are wind-driven phenomena, the sun's plasma tornadoes are shaped by the powerful magnetic field of our star.
"An active region rotating into view provides a bright backdrop to the gyrating streams of plasma," SDO mission scientists explained in a video description. "The particles are being pulled this way and that by competing magnetic forces. They are tracking along strands of magnetic field lines."
In the video, cooler plasma material appears as darker spots on a bright background. The SDO spacecraft recorded the video in the extreme ultraviolet range of the light spectrum, giving the movie an eerie yellow hue.
Check it out, AFTER THE JUMP…