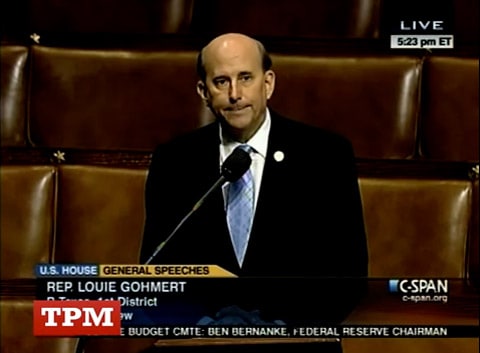 Yesterday on the House floor Rep. Louie Gohmert (R-TX) expressed his disgust over the Prop 8 ruling, condemning judges who disrespect the "sperm and egg coming together".
Said Gohmert: "The court, as I understand it today, struck down a law that said marriage is between a man and a woman. It's interesting that there are some courts in America where the judges have become so wise in their own eyes that they know better than nature or nature's God."
Gohmert then brought up the Supreme Courtjustices in Iowa who were ousted last year after a vicious campaign by anti-gay activists over their support for marriage equality:
"Nature seemed to like the idea of an egg and a sperm coming together because of pro-creation. Apparently [the judges] thought the sperm had far better use some other way biologically, combining it with something else. But the voters of Iowa came back and said you know what, if you're not smart enough to figure out actual plumbing…then perhaps we need new judges, and that's what they did."
Watch, AFTER THE JUMP…