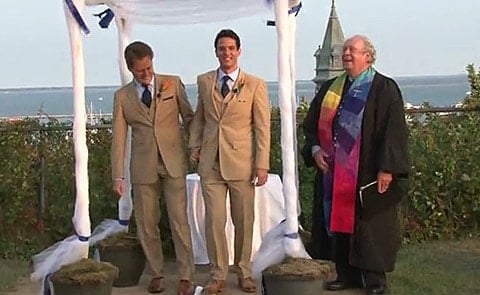 After my request last week for creative wedding videos, Amir Katz and his husband Chandler sent in this clip edited by their videographer Doreen Birdsell. They were married at the base of the Pilgrim Monument in Ptown last year. Amir writes:
We got married at the Pilgrim Monument in Provincetown during Labor Day weekend 2011.  Our ceremony included elements from the Jewish and Christian wedding traditions with our friends and family participating.  Both of our parents are still living and all of them had a part in the ceremony, starting with our moms walking us down the aisle.  My (straight, fraternal) twin brother was my best man, and Chandler's father was his best man.  We felt very blessed to be surrounded by our friends and family and to have access to legal same-sex marriage in Massachusetts.
Watch, AFTER THE JUMP…
Previous Gay Wedding videos…
Gay Wedding Video of the Day: Ruben and Joaquin [tr]
Dan and Eric Find Their Wedding Reception [tr]
Patrick and Scott Tie the Knot in Minnesota [tr]
First Dance at a Gay Wedding [tr]
We are starting a regular column featuring gay wedding videos. If you've got a creative wedding video online you'd like to share with Towleroad to celebrate marriage equality in this column please send it along. Extravagant, simple, sexy – we'll consider them (but can't guarantee we'll post them) all – the more creative the better! Let us know at tips – at – www.towleroad.com
Chandler and Amir's Highlights from Doreen Birdsell Studios on Vimeo.