Washington Governor Chris Gregoire will sign marriage equality into law today: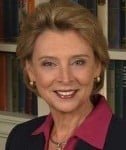 The governor has scheduled a signing ceremony for the State Reception Room at 11:30 a.m.  The TVW network will live blog the event.
The law is scheduled to take effect June 7, but not if opponents gather enough signatures to put the measure to the ballot, which they have promised to do:
If opponents gather enough signatures to take their fight to the ballot, the law is put on hold pending the outcome of a November election. They must turn in more than 120,000 signatures by June 6 to challenge the proposed law. An anti-gay marriage initiative has also been filed. To qualify, 241,153 signatures must be submitted by July 6.
GOP candidate Rick Santorum is in Washington today and plans to hold a meeting with opponents of marriage equality. Protesters are planning to demonstrate.
Watch a report on Santorum's planned visit, AFTER THE JUMP…