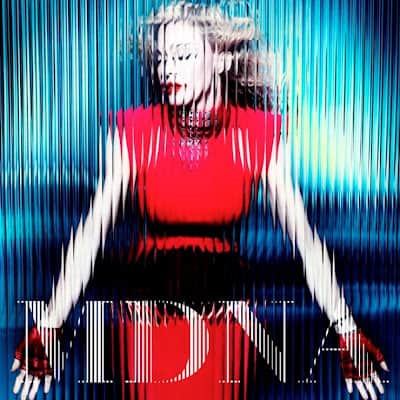 Madonna released the cover for the standard edition of her album yesterday, and the dates for her World Tour.
World Tour Dates, AFTER THE JUMP…
The Super Bowl performance broke some records on Twitter: "The highest Tweets per second #SuperBowl peak came at the end of the game: 12,233. 2nd highest was during Madonna's performance: 10,245."
Those two moments are now #2 and #3 on the most-tweets-per-second list. The first belongs to the online buzz sparked by Japanese anime movie Castle in the Sky in December. A full list here.
MADONNA 2012 WORLD TOUR ITINERARY
EUROPE
29-May  Tel Aviv, Israel  Ramat Gam Stadium  On Sale Feb. 10
3-Jun  Abu Dhabi  Yas Arena  On Sale Feb. 27
7-Jun  Istanbul, Turkey  Turk Telecom Arena  On sale soon
11-Jun  Zagreb, Croatia  Maksimir Stadium  On Sale Feb. 17
14-Jun  Milan, Italy  Stadio San Siro  On Sale Feb. 13
16-Jun  Florence, Italy  Stadio Franchi  On Sale Feb. 13
20-Jun  Barcelona, Spain  Palau Sant Jordi  On Sale Feb. 16
24-Jun  Coimbra, Portugal Estadio Cidade de Coimbra On Sale Feb. 11
28-Jun  Berlin, Germany  O2 Arena  On Sale Feb. 13
2-Jul  Copenhagen, Denmark  Parken Stadium  On Sale Feb. 13
4-Jul  Gothenburg, Sweden  Ullevi Stadium  On Sale Feb. 17
7-Jul  Amsterdam,The Netherlands  Ziggo Dome  On Sale Feb. 11
12-Jul  Brussels, Belgium  Stade Roi-Baudouin  On Sale Feb. 17
14-Jul  Paris, France  Stade De France  On Sale Feb. 14
17-Jul  London, UK  Hyde Park  On Sale Feb. 10
21-Jul  Edinburgh, UK  Murrayfield Stadium  On Sale Feb. 10
24-Jul  Dublin, Ireland  Aviva Stadium  On Sale Feb. 17
29-Jul  Vienna, Austria  Ernst-Happel-Stadion  On Sale Feb. 24
1-Aug  Warsaw, Poland  National Stadium  On Sale Feb. 17
7-Aug  Moscow, Russia  Olimpiski Arena  On sale soon
8-Aug  St. Petersburg, Russia  SKK Arena  On sale soon
12-Aug  Helsinki, Finland  Olympic Stadium  On Sale Feb. 14
15-Aug  Oslo, Norway  Telenor Arena  On Sale Feb. 20
18-Aug  Zurich, Switzerland  Stadion Letzigrund  On Sale Feb. 24
21-Aug  Nice, France  Stade Charles-Erhmann  On Sale Feb. 14
NORTH AMERICA
28-Aug  Philadelphia, PA  Wells Fargo Center  On Sale Feb. 13
30-Aug  Montreal, QC  Bell Centre  On Sale Feb. 18
1-Sep  Quebec City, QC  Plains of Abraham Site  On Sale Feb. 17
4-Sep  Boston, MA TD  Garden  On Sale Feb. 13
6-Sep  New York, NY  Yankee Stadium  On Sale Feb. 13
10-Sep  Ottawa, ON  Scotiabank Place  On Sale Feb. 13
12-Sep  Toronto, ON  Air Canada Centre  On Sale Feb. 13
15-Sep  Atlantic City, NJ  Boardwalk Hall  On Sale Feb. 27
19-Sep  Chicago, IL  United Center  On Sale Feb. 13
23-Sep  Washington, D.C.  Verizon Center  On Sale Feb. 13
29-Sep  Vancouver, BC  Rogers Arena  On Sale Feb. 13
2-Oct  Seattle, WA  Key Arena  On Sale Feb. 13
6-Oct  San Jose, CA HP  Pavilion  On Sale Feb. 13
10-Oct  Los Angeles, CA  Staples Center  On Sale Feb. 13
13-Oct  Las Vegas, NV  MGM Grand  On Sale Feb. 27
16-Oct  Phoenix, AZ  US Airways Center  On Sale Feb. 27
20-Oct  Dallas, TX  American Airlines Center  On Sale Feb. 27
24-Oct  Houston, TX  Toyota Center  On Sale Feb. 27
27-Oct  New Orleans, LA  New Orleans Arena  On Sale Mar. 5
30-Oct  Kansas City, MO  Sprint Center  On Sale Mar. 5
1-Nov  St. Louis, MO  Scottrade Center  On Sale Mar. 5
3-Nov  St. Paul, MN Xcel  Energy Center  On Sale Feb. 27
10-Nov  Cleveland, OH  Quicken Loans Arena  On Sale Mar. 5
15-Nov  Charlotte, NC  Time Warner Cable Arena  On Sale Mar. 5
17-Nov  Atlanta, GA  Philips Arena  On Sale Mar. 5
TBC  Miami, FL  To Be Confirmed  On Sale Soon