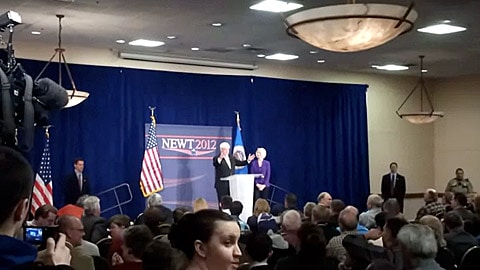 At two separate campaign stops in Minnesota, Newt Gingrich was interrupted by members of the LGBT rights group the Glitterati, according to its reports. CBS News reported on the incident in Bloomington:
"Hey Newt, why do you support discrimination against gays and lesbians all the time? Serial hypocrisy!" a young man yelled at Gingrich, interrupting his 40-minute speech. After he was pushed out of the room by what appeared to be a supporter, a second young man took up the charge in the back of the room, chanting, "No hate in our state, why do you discriminate?"
As the crowd began chanting Gingrich's name, a woman approached the second protestor and grabbed his wrists. Before a fight could break out, police escorted him from the room.
Gingrich was unruffled by the disruptions, saying he presumed most of the crowd supported him. "My guess is it's 407 to three," he said.
Watch the video, AFTER THE JUMP…