Maine voters will vote on marriage equality again in November after LGBT advocates, who believe they have a better chance this time around, received word that the signatures they turned in to get the question on the ballot have been certified, Bloomberg reports: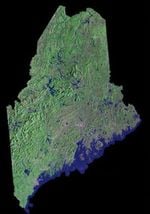 Secretary of State Charles E. Summers Jr. verified more than 85,000 of the 105,000 signatures submitted last month, said Barbara Redmond, his deputy secretary. About 57,000 names were required, according to EqualityMaine, the Portland-based gay- rights group leading the coalition that collected them.
"Same-sex couples want to marry for the same reasons other couples want to marry: because they love each other and want to spend their lives together," Betsy Smith, EqualityMaine's executive director, said in a statement. "There's no question that momentum is growing for same-sex marriage in Maine."
Voters rejected a similar measure in 2009. This one has specific religious exemptions carved out. If Maine voters approve the measure, it would be the first time a ballot initiative to legalize same-sex marriage has been successful in any state.