Adam Lambert will sing as Queen's frontman.
Trial of roommate Dharun Ravi begins today in Tyler Clementi suicide case.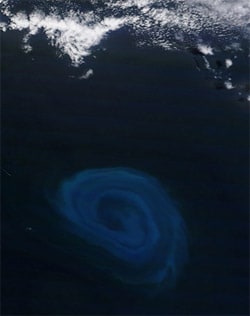 NASA satellite spots 90-mile wide whirlpool off South Africa. "Rather than wreaking havoc like terrestrial storms, though, these ocean whirlwinds draw nutrients up from the deep, nourishing blooms of microscopic marine life in the otherwise barren open ocean."
VIDEO: Anderson Cooper feeds Courteney Cox's ranch dressing addiction.
Rihanna and Chris Brown release "Birthday Cake" collaboration.
The AIDS quilt, 25 years later.
Marriage equality faces tough road in Illinois this year: "The conventional wisdom in Springfield is that lawmakers will first focus on winning March 20 primary contests as they run in new districts and then attempt to pass a budget and escape the spring session taking as few controversial votes as possible. 'It's going to be a tough year to pass any legislation that's outside of budget and pension issues,' said Sen. David Koehler, a Peoria Democrat who championed the civil union legislation. 'It's going to more of an election-year agenda in the state Legislature.'"
VIDEO: Whitney Houston rocking out to Madonna's halftime show.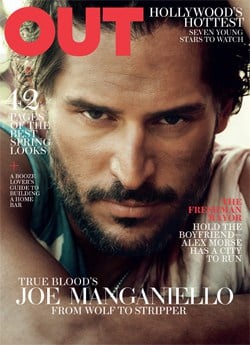 Joe Manganiello smolders for OUT. "I was a pretty gothic, dark kid, obsessed with monsters. I loved Halloween and skulls. I was just that kid. My first concert was Pantera, Sepultura, and Biohazard. I loved industrial like Ministry and Revolting Cocks. I was in love with the chick bassist in White Zombie with fluorescent green hair. It's great that, for a living, I'm associated with full moons and wolves!"
David Geffen and boyfriend Jeremy Lingvall split: "Sources tell us the pair have gone their separate ways after six years together, because "the relationship had simply run its course." The source added, "There is nobody else involved." Geffen, 68, confirmed the split last night but refused to comment further. He and Lingvall had long been inseparable despite a 40-year age difference between them."
Williamsburg, Brooklyn gay bar loses its liquor license: "A North Brooklyn civic group unanimously rejected a Lorimer Street gay bar's request for a liquor license renewal last week over complaints that the boisterous Metropolitan bar keeps its neighbors awake late into the night."
UK Jazz FM station aired 5 minutes of gay adult audio programming.
Zac Efron gets a bicep tattoo, shirtless.
Mob Wives' Big Ang is Marilyn Monroe for NYC's Next magazine.
Tennessee school counselors upset about the "Don't Say Gay" bill: "We have a lot of students who are kind of coming to terms with who they are, whether it's sexual orientation-related or not," said Leigh Bagwell, coordinator of school counseling services for Metro Nashville Public Schools. "I think you'd be hard pressed to find a counselor that hasn't dealt with that at one time or another."
J Lo does Carnival in Rio.
Sunday is National Pray for Marriage Day.
Matt Rettenmund meets James Franco and reviews his My Own Private River.
Spectrum crunch: U.S. mobile phone industry running out of airwaves.
Lady Gaga beau Taylor Kinney to star in firefighter drama: "In the action-driven drama about the complex and heroic men and women of the Chicago Fire Department, Kinney will play adrenaline-junkie Squad Lieutenant Kelly Severide, the leader of the elite firefighters who respond to the most dangerous fires or rescue operations."