Maryland Governor Martin O'Malley will make Maryland the eighth state to recognize same-sex marriage this Thursday, the AP reports: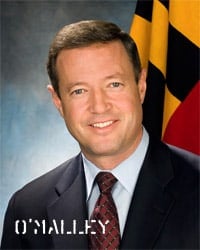 The governor is scheduled to sign the legislation in a 5 p.m. ceremony Thursday, making Maryland the eighth state to legalize same-sex unions.
Said O'Malley after last week's Senate passage: "All children deserve the opportunity to live in a loving, caring, committed, and stable home, protected equally under the law. The common thread running through our efforts together in Maryland is the thread of human dignity; the dignity of work, the dignity of faith, the dignity of family, the dignity of every individual. Thanks to our elected leaders, clergy and faith-based leaders, community leaders, civic organizations, civil rights groups, and citizens from across our state, Maryland will now be able to protect individual civil marriage rights and religious freedom equally."
On Friday, Delegate Neil Parrott filed paperwork on behalf of opponents to bring the measure to a voter referendum. Opponents must collect 55,736 signatures to get it on the November ballot. Parrot promised to double that number.