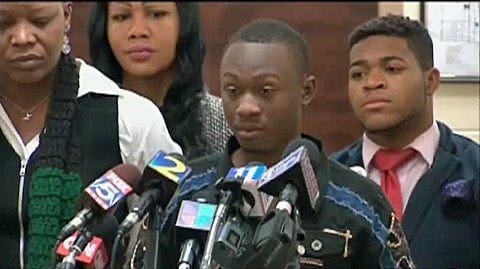 Some new developments in the case of Brandon White, the 20-year-old Atlanta man who was attacked by a gang earlier this month in a video that went viral. In the video, several men pummel White as he is leaving a grocery store, calling him "faggot" and taking his cell phone.
Now, LGBT rights advocates that stood by White after the attack say he needs to come clean because they believe his attackers were gay men on the down low who beat White over concern that a video White had on his cell phone would expose them.
White had previously claimed he did not know his attackers.
White's attorney Christine Koehler denies he knew them and is furious:
"The thought that we would watch a video that speaks for itself, and somehow flip it so that the men that beat my client are somehow victims of fraud is frustrating," she said. "Brandon stands by his assertion that he doesn't know these gentlemen. It's irrelevant because they won't be prosecuted by a hate crime law that does not exist in Georgia."
Watch a CBS News report via Project Q Atlanta, AFTER THE JUMP…