Gay Wikileaks Private Bradley Manning is among one of 231 nominations for the Nobel Peace Prize, the AP reports: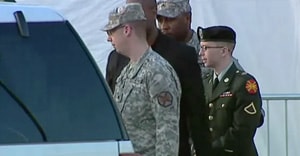 The secretive committee doesn't reveal who has been nominated, but those with nomination rights sometimes announce their picks. They include Bradley Manning, the U.S. Army private charged with the biggest leak of classified information in U.S. history, Russian human rights activist Svetlana Gannushkina and former Ukrainian Prime Minister Yulia Tymoshenko.
Norwegian Nobel Committee secretary Geir Lundestad told the AP on Monday that "The list of nominees is a mixture of repeated nominations and some new names."
Other names known to be on the list: Tunisian President Moncef Marzouk, Bill Clinton, and Helmut Kohl.
Last week, Manning deferred his plea at an arraignment.
Watch AFP and RT's report, AFTER THE JUMP…