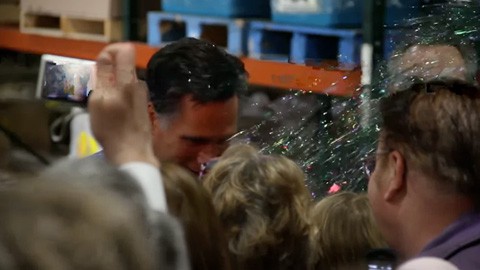 Yesterday I posted a couple clips of the aftermath of Mitt Romney's glitter-bombing incident in Minnesota. Now the activists' own video is online: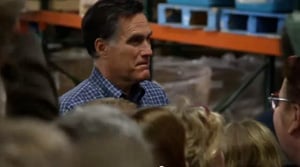 Nick Espinosa and Sam Richards yelled "Feel the rainbow" and "the 1% pays for hate, you're not welcome in our state!" as they showered Romney in rainbow colored glitter as he walked up to the stage, and again as he shook hands on his way out.
Romney completed the speech with a formidable amount of glitter sparkling in his hair and another Occupy Minneapolis member, Sam Richards added a second salvo of glitter just after Romney concluded his speech.
"The struggle against inequality in all its forms unites the 99%. Just as we stand against economic inequality, we stand against the inequality faced by those of us in the LGBT community," added Ben Egerman, an organizer of the action.
Watch Mitt get glittered and make angry face, AFTER THE JUMP…
As you may recall, Espinosa is the activist behind past glitter-bombings of Newt Gingrich, Michele Bachmann, and Marcus Bachmann's clinic.