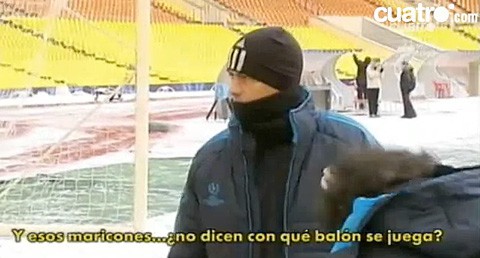 Real Madrid coach Jose Mourinho is facing criticism after casually using the slur "maricones" (translated as "faggots") on camera ahead of a game at a Russian stadium earlier this week.
Goal.com reports:
The European Gay and Lesbian Sports Federation (EGLSF) has filed a complain against the Portuguese boss in the wake of his comments, and co-president Louise Englefield has urged Uefa to take action against Mourinho.
"Homophobia is unacceptable from anyone in football, much less from one of the game's most senior figures. We are deeply disappointed that Mr. Mourinho is casually using homophobic terms of abuse in his workplace," Englefield was quoted as saying by Daily Mail.
"It is especially sad that these comments have been made during the International Football v Homophobia campaign week.  As long-standing partners of the FARE network, we call on UEFA to take action and impose appropriate sanctions."
Watch the clip, AFTER THE JUMP…