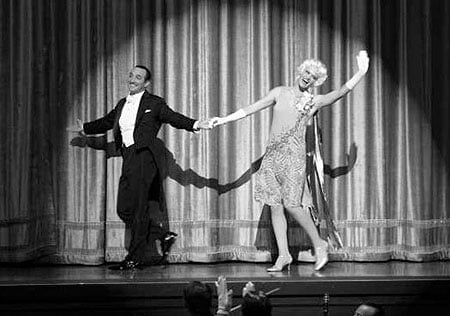 The days of silent film stars (Jean Dujardin & Missi Pyle) are numbered in "The Artist"

 I apologize for my radio silence but I was sucked into a vortex of tears and trembling and I don't mean my annual Oscar weekend nervous breakdown. I was working on a project involving Oscar's acceptance speeches and I literally spent twelve hours watching them via Oscar's official YouTube channel. People are always complaining that the Oscars are too long but I say too short. Whenever I revisit a famous Oscar speech I become more perplexed that the producers are always pushing winners to keep it down to 45 seconds. I live for those hot mess speeches like Adrien Brody's in 2003 or Halle Berry's in 2002. Remember that? I mean she didn't even stop hyperventilating for a minute and a half. How much less memorable would Jeff Bridges speech have been in 2010 if they didn't let him have all this "groovy" memories and detours and how much duller would Sandra Bullock's speech have been had she had to cut out all the laugh lines and Meryl Streep kissing jokes and her anecdote about her boy craziness…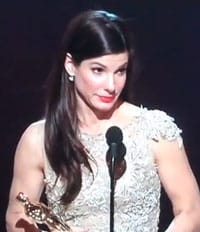 "So, if I can take this moment to thank Helgeby for not letting me ride in cars with boys till i was 18 cuz she was right I would have done what she said i was going  to do."
My greatest impossible dream for Sunday is that Christopher Plummer will feel compelled to sing the entirety of The Sound of Music's  "Something Good" when he wins for Beginners. If he does we should all tear down our curtains and make playclothes in his honor.
I hope they let Viola Davis talk for 15 minutes when she wins Best Actress because she's divine. Yes, yes, the gays are supposed to want Meryl Streep to win every year — sorry! — but this year I'm all about Viola. She truly anchored The Help, saving it from its own worst impulses and making its best ones resonate. You could feel a lifetime of struggle in her posture and walk, habitually suppressed anger in her frowns; even her smiles and laughter had undertows like she knew they'd be gone the next instant or bring painful memories of her son back with them. People reflexively bad mouth the film — sure, it's an easy target — but that performance is just flawless. (If I ran the world Meryl would already have her three or four naked gold men so I owe her nothing)
What are my Predictions? AFTER THE JUMP…
If you're betting against The Artist on Sunday, you'll lose. Ignore the backlash especially when people call it a safe unadventurous choice. ("Yes, because comedies and black and white silent films win so often," he said sarcastically). This is a highly unusual year in that it seems like most of the best nominees in each category are going to win.
Best Picture
Will Win: The Artist
Spoiler: The Descendants and The Help are the only films with anything like spoiler heat but not enough of it.
Best Director
Will Win: Michel Hazanavicius, The Artist
Spoiler: If Oscar gets cold feet about giving everything to the French on Sunday, this could go to an American legend Martin Scorsese (Hugo) or to Alexander Payne (The Descendants).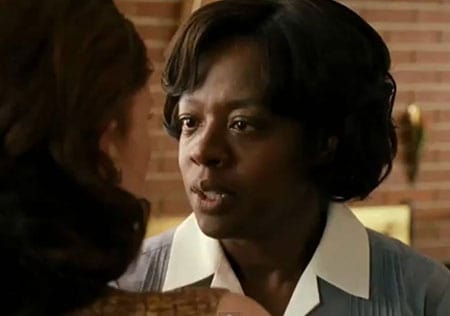 Best Actress
Will Win: Viola Davis, The Help
Spoiler: Meryl Streep, The Iron Lady … and it might happen since it's been 29 years. 

Best Actor
Will Win: Jean Dujardin, The Artist
Spoiler: George Clooney, The Descendants
Jean, George and Brad Pitt (Moneyball) were still campaigning hard right up into the finish and it feels like a squeaker. I'm rooting for Brad and Hollywood always roots for Clooney but Dujardin's extravagantly expressive face and dancing feet might prove irresistible.
Best Supporting Actor
Will Win: Christopher Plummer, Beginners
Spoiler: None. Plummer is so far out front I wouldn't be surprised if Hollywood can't remember who the other guys are.
Best Supporting Actress
Will Win: Octavia Spencer, The Help
Spoiler: None. She's been sweeping the precursors.
Who would you vote for?
WHAT TO SEE THIS WEEKEND THAT YOU PROBABLY HAVEN'T YET…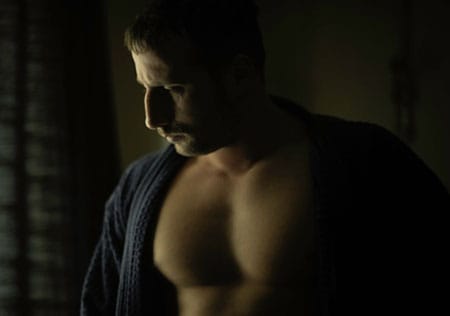 Matthias Schoenaerts as a steroid addled man in "Bullhead"
If you haven't seen The Artist yet, you need to see what the fuss is about. Otherwise try and find Iran's A Separation which has been slowly trickling in to more cities. The family drama slash legal thriller is a full stop masterpiece and if it loses Best Foreign Film Sunday it'll be the night's most depressing moment. (It's also nominated for Best Screenplay but there's probably no stopping Woody Allen's amusing Midnight in Paris there.) A Separation has tough competition, though, from Poland's In Darkness, a Holocaust drama (and you know how much Oscar loves those) and maybe even from Belgium's Bullhead, a critically acclaimed crime drama about illegal growth hormones that has a lot of people talking. If you've seen all the Big Name players, you could also try a couple of the Best Documentary nominees: Hell and Back Again and If a Tree Falls are both streaming on Netflix.
If you've already seen all the nominees and have no time to see movies anyway because you're busy prepping for your massive Oscar party to shame all Oscar parties, well done!
Nathaniel Rogers would live in the movie theater but for the poor internet reception. He blogs daily at the Film Experience. Follow him on Twitter @nathanielr.