Daniel Pokorney, the Mayor of La Grande, Oregon, apologized at a public forum on Monday night after remarks he made about same-sex marriage on his Facebook page drew attention angered constituents and members of Eastern Oregon University's Gay-Straight Alliance, the La Grande Observer reports: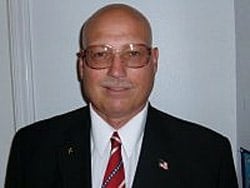 Facing a crowd dominated by college students, he wasted neither time nor words defending himself.
"I sincerely apologize for my choice of words in the two Facebook posts last week. My choice of words was harmful and hurtful," he said. "I don't hate anyone. My intent was not to be hurtful, but to express myself on important issues. I understand there is a right way and a wrong way to address the issues."
In one of his Facebook posts, Pokorney called Washington state the "latest state to transition to Sodom and Gomorrah," and in another, he criticized New Jersey for continuing what he called the "abomination of same sex unions."
Many had called for the mayor's resignation. It's unclear, after the forum, which lasted a couple of hours, if those demands will still being made.
More at The Oregonian…