Opening remarks have been made in the trial of Dharun Ravi, the roommate of Tyler Clementi, who killed himself by jumping off the George Washington bridge in September 2010 after Ravi broadcast intimate moments of him with another man to the internet.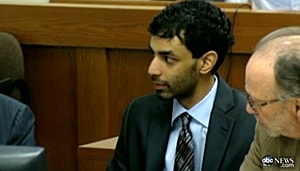 ABC News reports on the testimony of prosecutor Julie McClure:
"Even that, though, was not enough. Within minutes of viewing those live video images, he didn't say 'I'm shocked, 'I didn't think that's what I expected to see, I'm embarrassed.' No, he sent out a message, an announcement via his Twitter account, a public twitter account, friends outside of Rutgers," McClure said.
The prosecution accused Ravi of publicly ridiculing Clementi, disregarding both Clementi's privacy and his dignity. McClure charged that it was clear that Ravi was targeting Clementi because he was gay.
When Clementi asked for the room a second time two days later, Ravi agreed, which McClure described as a "trap," and that he sent out "another public announcement."
"He's seeking to brand Tyler as different from everybody else, as gay, to set him up for contempt and ridicule," she said. "These acts were not a prank, not an accident, not a mistake, and certainly were not good natured… These acts were purposeful, intentional, planned. I would suggest to you beyond that mean spirited, malicious, and criminal."
Watch ABC's report, AFTER THE JUMP…