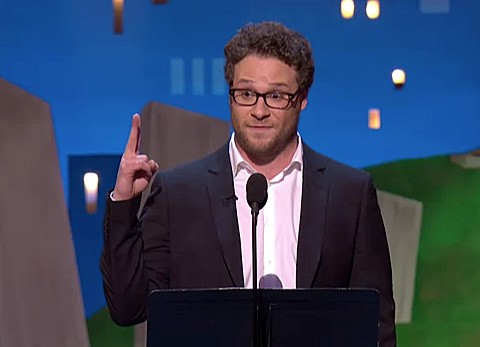 Seth Rogen hosted the Independent Spirit Awards in Santa Monica on Saturday, and took the opportunity to lay into Brett Ratner for the anti-gay slur that got him rejected as Oscar producer last fall. In the same joke, he also took aim at Grammy producers for celebrating Chris Brown.
Said Rogen:
"Without awards season we wouldn't know what a horrible bigot Brett Ratner is. It's good. Good to know. That Ratner sh*t was crazy. That was nuts. Are we really surprised that he said that though, honestly? Come on. Who was like, 'Ratner? I thought Ratner was Mr. PC, that's weird.' It's very strange though. That was crazy."
He added:
"I honestly bet, though, that Brett Ratner wishes that he was organizing the Grammys, because they seem much more forgiving than the Oscars, altogether. Seriously. You say a few hateful things they don't let you within 100 years of the Oscars. You could literally beat the sh*t out of a nominee and they let you perform twice at the Grammys."
The mark above comes at about 5:00 into Rogen's opening monologue, AFTER THE JUMP…