According to a press release from Russian LGBT group Side by Side, the heinous anti-gay "propaganda" law under consideration in St. Petersburg, Russia last November is back on the table this week. The bill would ban all public LGBT events and outlaw any outreach on the internet or to the media by LGBT groups.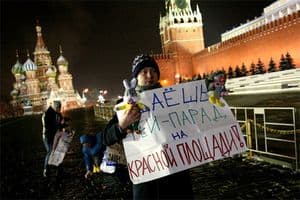 Writes the group:
The anti-gay draft law, prohibiting the so-called propaganda of "sodomy, lesbianism, bisexualism and transgenderism" as well as pedophilia to minors, is back on the table in St. Petersburg's city parliament this Wednesday, February 8, for the second, and possibly final, hearing.
The draft law was introduced in November 2011 by Russia's ruling party United Russia and was met with rigorous protests by LGBT activists across the country. Tens of thousands of signatures against the bill were collected in Russia and abroad, street protests and public discussions organized. Blatantly ignoring the Russian Federal law, the UN Universal Declaration of Human Rights, the European Convention for Human Rights, the Council of Europe Recommendations and other decrees, the bill was condemned by numerous international human rights organizations as a thinly-veiled attempt to legalize discrimination against LGBT people. A resolution condemning "proposals to criminalize public information about sexual orientation and gender identity" was issued by the European Parliament in December.
As a result of the rigorous campaign, the second hearing of the proposed law was postponed in December 2011, but is now back on the table in St. Petersburg, the heart of LGBT rights movement and home of several strong LGBT organizations, including LGBT organization Coming Out (Vykhod), the Russian LGBT Network, and Side by Side LGBT film festival.
If passed, the measure will rule out nearly all public events carried out by or on behalf of LGBT people and organizations and their reaching out to the media and the Internet, severely curtailing the publication of anything relating to LGBT rights or providing assistance or advice.
Moscow is considering a similar bill, and the ruling party's representatives are suggesting that a federal bill be drawn up covering the same issues.
Activists were arrested in Moscow's Red Square in January while protesting the proposed law.
Side by Side produced a video about the bill late last year.
Watch it, AFTER THE JUMP…
You can sign a petition protesting it HERE.