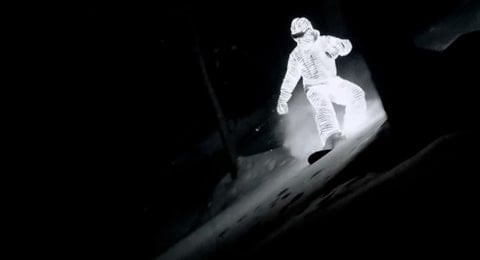 Fashion photographer and filmmaker Jacob Sutton shot Artec pro snowboarder William Hughes on the slopes of Tignes in the Rhône-Alpes region of south-eastern France wearing a bespoke L.E.D.-enveloped suit courtesy of designer and electronics whizz John Spatcher, and it's certainly one of the most stunning and peaceful things I've seen all week.
Said Sutton: "I was really drawn to the idea of a lone character made of light surfing through darkness. I've always been excited by unusual ways of lighting things, so it seemed like an exciting idea to make the subject of the film the only light source."
Added Hughes: "Filming in the suit was the most surreal thing I've done in 20 years of snowboarding. Luckily there was plenty of vin rouge to keep me warm, and Jacob's enthusiasm kept everyone going through the cold nights."
Check it out, AFTER THE JUMP…