The Huffington Post's Amanda Terkel reports on gay involvement in a fundraiser headlined by Dick Cheney to reelect House Speaker John Boehner: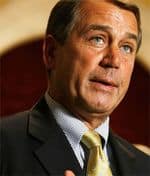 While much of the personality of the House Republican caucus has been dominated by freshmen members who identify with the Tea Party, this fundraiser underscores Boehner's ties and support from the GOP establishment.
While Boehner and Cheney undoubtedly agree on many, if not most, policy issues, one major area of disagreement is on same-sex marriage. Cheney has been outspoken about his support for marriage equality and was reportedly involved in a lobby effort on the issue in Maryland. Several other individuals on the invitation list — including former Republican National Committee chair Ken Mehlman, former deputy press secretary Tony Fratto and Log Cabin Republicans executive director R. Clarke Cooper — also back marriage equality. None of them returned a request for comment.
Boehner, on the other hand, has led the effort to uphold the Defense of Marriage Act (DOMA), which bans same-sex marriage at the federal level.
Writes Terkel: "The event is benefiting the 'Boehner for Speaker' effort, which is a joint fundraising committee composed of his reelection campaign, his political action committee, the National Republican Congressional Committee and the Ohio Republican Party."
View the invite here.