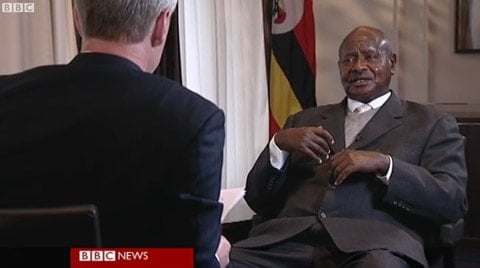 Ugandan President Yoweri Museveni spoke to the BBC about homosexuality on an episode of Hard Talk aired Thursday:
The president told BBC's Hard Talk programme that he did not consider homosexuality to be normal, but that it may be tolerated if it was kept behind closed doors.
"Homosexuals – in small numbers – have existed in our part of black Africa," he explained in the interview, to be aired in full on Thursday.
"They were never prosecuted, they were never discriminated, but the difference between us and… Western Europe is the promotion of homosexuality, as if it is something good."
Watch the interview HERE.