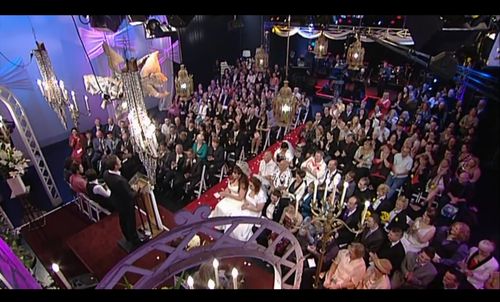 This week, star Australian comic Adam Hills hosted a big, beautiful gay wedding on his talk show, Adam Hills In Gordon Street Tonight. It wasn't a legal wedding (this is Australia) and it wasn't entirely straight-faced (so to speak), but what it lacked in legality and reverence it almost made up for in charm and sweetness. It was a mass wedding of 41 same-sex couples, and according to The Sydney Morning Herald its genesis was something like this:
Prospective audience members are asked to complete a questionnaire, and when they started pouring in for the first show a pattern began to emerge. Asked "what would you change if you were Prime Minister for a day?" an overwhelming majority answered they'd legalise same-sex marriage.

"And when I read one saying, 'I'd change the same sex laws so I could marry my girlfriend', I thought, 'I think I know what I have to do now'," Hills said …

The show's producers contacted Rebecca Edwards to ask how she would feel about being "married" – albeit without any legal status – on TV. She said was up for it.

… the day after her proposal went to air 200 other couples contacted the ABC to say they wanted to be involved. In the end, logistics limited the wedding party to 41 couples.
The couples were gay, the officiator was famous, and the wedding singer was Adam Ant. Watch the mass nuptials AFTER THE JUMP …