Rotterdam-based newspaper NRC Handelsblad has discovered proof of at least one castration that was performed on a boy under Catholic church care in the 1950s to 'cure' his homosexual feelings, Dutch News reports: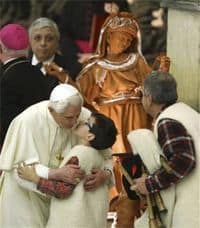 But there are indications at least 10 other boys were also castrated, the paper said. The claims were not included in the Deetman report on sexual abuse within the Catholic church published at the end of last year.
The paper says the one confirmed case concerned a boy – Henk Heithuis – who reported being sexually abused by priests to the police in 1956. After giving evidence, he was placed in a Catholic-run psychiatric institution where he was then castrated because of his 'homosexual behaviour'.
The castrations were not included in the Deetman report because 'there were few leads for further research'.
The Deetman committee was set up by the church itself in 2010 after the sexual abuse scandal broke. It reported in December having identified some 800 priests and monks who abused children in their care between 1945 and 1985.
Castration was also used "as a means of punishing those who blew the whistle on abusers" according to the paper.
Church officials were aware of what was happening but did nothing. Other revelations excluded from the Deetman report include the Catholic people's party KVP's attempts to have sentences dropped against priests charged with abusing children in that late 50's.