In an interview with the Washington Blade's Chris Johnson, Elizabeth Warren, who is running to unseat Senator Scott Brown in Massachusetts, said she would lead on LGBT rights and called for her party to embrace marriage equality in its platform, and Obama to speak out publicly in support of it.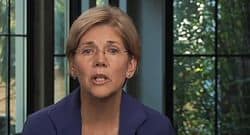 Warren called on President Obama to complete his now 17-month-old "evolution" and endorse marriage equality. She also said she supports the call for a marriage equality plank in the Democratic Party platform this September.
Asked whether she wants Obama to finish evolving and support same-sex marriage, Warren chuckled and responded that was indeed her view. "I want to see the president evolve because I believe that is right; marriage equality is morally right," Warren said.
Warren expressed similar sentiments about the Democratic Party platform, saying it would build support for ending the anti-gay Defense of Marriage Act.
"I'd be glad to see it included in the Democratic platform," she said. "It helps raise awareness of the impact of DOMA and it helps build support to repeal it."
Warren also spoke out against DOMA, calling it "institutionalized discrimination" and also discussed her opponent:
Warren said Brown's vote on "Don't Ask, Don't Tell" repeal was "a good vote" and that he should be commended for it, but added she'd step up the LGBT advocacy if elected to the Senate.
"I'll be there on every vote," Warren said. "I'll be there not just to provide a vote, but leadership, and I think that's what the LGBT community really needs."
Elizabeth Warren pledges to lead on LGBT rights [washington blade]