The European Union condemned statements made last week by Albania's deputy defence minister and leader of the royalist party, Ekrem Spahiu over plans by LGBT rights activists to hold their first Gay Pride march in the country on May 17.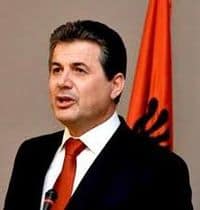 Said Spahiu: "My only commentary on this gay parade is that they should be beaten with truncheons."
The EU delegation in Tirana responded with a statement: "The European Union strongly condemns any discriminatory rhetoric as well as any incitement to hatred or violence."
AFP adds: "Albanian Prime Minister Sali Berisha said he backed the planned parade in Tirana as 'Albania is a country where all freedoms are guaranteed.' On Sunday Albanian Muslim and Catholic organisations voiced strong opposition to the parade, insisting that gay rights events threatened society."